What is the difference between "cash flow" and "cap rate"? Excellent question when pondering whether or not to get into the investment side of real estate. Cap rates are very much like politics in that they differ from one local area to another. At times, the cap rate will be different from one part of a city to another, and from one type of property to another.
The purpose of a cap rate is to show the relationship between an income property's NOI (Net Operating Income) and its value. This is why it is so important to do your homework while searching for investment real estate. You need to know what the prevailing cap rate is for the type of income property and the desired location you are searching in. With the help of your Realtor, you now can make a reasonable estimate of the investment property's value. Here's an info graphic I found to make sense on how to find the cap rate on your investment property.
Understanding what the cap rate is important but not enough to make an informed decision to buy. You want to make cash flow and resale projections with your Realtor going out a few years, five at least but probably more.
Making sure you have cash flow every month instead of losing $100+/per month with the hopes that the property is increasing in value is the only way to continue your real estate investment activity. The real estate market is currently quite healthy, but you need to take into account that the market can change and will for better or for worse.
You don't have to be a real estate investor to profit from real estate. Buying your first home, regardless if it's a condo, townhouse or a single family home is one sure fire way to gain equity over the long haul. Here's a good example and what local Realtors have seen with several homeowners. The real estate market here in the Gallatin Valley has increased in value an average of 9% per year since 2013. Let's say you purchase your first home for $200,000 in January of 2013, with a 9% per year increase in value, your home is now worth $237,620 two years later. How many jobs or investments pay you to live and enjoy your home and pay a 9% return on your investment? If you want to start building wealth, buy your first home. Period.
What about those long time real estate investors? What happens when you own real estate for 20+ years and the thought of selling it brings you to your knees when calculating those capital gains taxes? Good question, I thought you'd never ask. Wait, who's typing anyways? Okay, in all seriousness….this is when a 1031 like kind exchange comes in handy. What you say? Read more on my last blog concerning 1031 exchanges here…
I've worked with a few folks who were fortunate enough to use this real estate investment tool and I can tell you they will be real estate investors for life. Hopefully it will be enough to convince the generations to come that real estate really is the best investment out there. Take a look at the photo below. Just closed on this beauty today, buyers used a 1031 exchange to get the deal done. With the strong rental market in and around Bozeman, the buyers felt confident on settling on a 3 bedroom, 3 bathroom condo located across the street from Outlaw Brewery. I know, I know….they are smart buyers aren't they?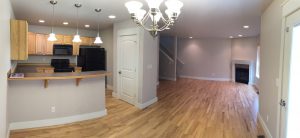 Bozeman Real Estate Investment Property
"Thank you for helping my husband and I locate and close on our investment
property in Bozeman.  We especially appreciated how efficient you were in
showing the properties.  We had limited time in town to look at properties,
but you planned precisely a "whirlwind" tour showing us multiple locations
with a variety of options for size, age, location, and services but still in
the price range and investment criteria we initially specified to you.  Once
we decided to submit an offer, you gave us ample feedback on comparable
sales data, anticipated closing times and costs, and quick document
turnaround.  We were thoroughly impressed with your follow through after the
offer was accepted.  You coordinated the home inspection, advised us on
property management agencies and even acted as our eyes for the final
property walk through.  You made the purchase process extremely efficient
and manageable by assisting us through all aspects, start to finish.  From
one type "A" person to another – you rocked!" Corey & Janette Jones
Contact Everdawn today to find your next real estate investment.